I'm the friendly-but-no-bs healthy home and digital detox EMF expert for people who are ready to take action and transform their home into a thriving, vibrant environment that supports and nourishes the mind, body and soul.
Sound good? Read on…
IF YOU'RE SICK OF
Being worried about what the EMF fields in your home are doing to you and your family's health and not knowing what to do to protect yourself
Feeling frustrated, overwhelmed or lost by trying to learn and reduce them on your own (including if you've bought meters and trying to figure THOSE out)
Feeling helpless and out of control by all of the ever-increasing technology that we're surrounded with and what steps you can take
Not knowing what solutions or products are valid and which ones are bogus
Getting terrible sleep (or, your children are getting terrible sleep, meaning you are too)
AND YOU LONG FOR
Being able to identify all of the fields inside and outside of your home that are impacting you
Understanding how the fields work and what options you have to take control and reduce your exposure
Being able to evaluate products and solutions and know which ones are best for your situation
Sleep. Great sleep every night (including your kids!)
THEN YOU'VE COME TO THE RIGHT PLACE
I know exactly how you feel, and I've been there (and I can tell you, it's not a whole lot of fun). I'm here to tell you that getting great sleep, having more energy, and saying good riddance to all of your headaches, allergies, and other triggers, and improving your health for you and your family can be a straightforward and easy process. If this sounds like you, then there's one thing you need to do. JOIN ME.
BECAUSE
Crappy sleep = poor performance whether it's at your job, as a parent or spouse, and it also affects your long-term health
Unplugging can help your kids sleep through the night, reduce hyperactivity, and help them focus better at school (and who wouldn't want that?)
You can make a difference in your overall health by reducing you and your family's exposure to EMF fields whether you have inflammation-related symptoms, or have gone through a treatment or are severely immuno-compromised
And lastly but not least, you have TONS more options than you think you to create as healthy home. In other words, you don't need to go live in a cave or under a rock or live in a shroud. Most of the changes are invisible but have big impact, meaning your home may still look pretty much the same but it FEELS so much different (in a good way!)
AND I HAVE A SOLUTION FOR YOU
Whether I work with you in-person or remote via my DIY course or group program, I've cracked the code on how to reduce EMFs in your home without leaving anything critical out and have created a process and system that walks you through step-by-step so you can get the same results that I was able to get and all of my clients have experienced.
If you're really serious about changing your life and controlling your risk and exposure to EMFs, and you don't want to look back in 6 months-1 year and think "I wish I had done something about EMFs in my home" or wonder how much your life could have changed if you had, then the time is now.
WANT TO WORK WITH ME? HERE'S HOW I CAN HELP YOU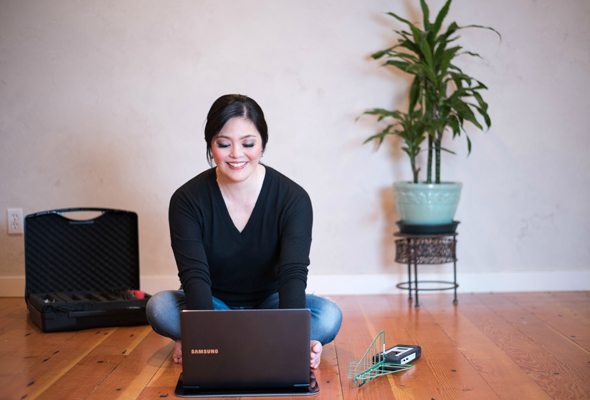 Not exactly sure where to begin? Let's jump on a call to find the right solutions for you. We'll get clarity on your home's health status, identify some options for any symptoms or sensitivities you're trying to address, whether or not any steps you've taken in the past to remove toxins were efficient, and then identify some strategies and solutions for you.
"NOT ONLY DID RISA FIX MY ROOM SO I DON'T FEEL ANY EMF FIELDS, BUT NOW I HAVE ENERGY ALL DAY…"
"I was feeling tired and low, and being in the health field, I knew my room where I was working was too close to too many cell phone towers.
I contacted Risa who came out and measured my room, office, and the area around our building.In a few days we had a full on report about what it is we are dealing with, and the best way to resolve the issues.
Not only did Risa fix my room so I don't feel any EMF fields, but now I have energy all day… It was beyond worth the money. I'm happy Risa does not cut corners when it comes to this work. I highly recommend, and am very grateful for her knowledge and time."
~ Jeffrey B., Certified Advanced Rolfer ~